Mobile time clock apps help you track worked hours and attendance of employees. They make the process of time and attendance tracking easier, faster, and more accurate.
Finding a time clock app that suits your business needs can be hard when there are many options available.
In this post, we'll discuss what you should consider when choosing mobile time clock apps and recommend some good options.
What are mobile time clock apps?
Mobile time clock apps are apps that help you track employee hours. They let employees clock in and clock out using phones, and record timesheets that you can use for payroll.
Besides the core feature of recording the start and end times of shifts, time clock apps may also offer additional features such as scheduling, messaging, or workforce management.
Knowing your business needs, budget, and team size will give you specific criteria to look for when choosing a time clock app.
Why should you use a mobile time clock app?
Gives accurate data and helpful insights
Tracking employee time on paper or spreadsheet means lots of manual work: entering start and end times, reviewing timesheets, noticing discrepancies in time entries, etc.
A time clock app automates these processes and records accurate numbers that provide great insights into how your workforce is doing.
Prevents time theft
Time theft is costly for businesses. It often comes in the form of buddy punching or entering inaccurate timestamps.
Many time clock apps let you set up restrictions when clocking in and out so you can prevent a majority of time theft attempts.
Spots attendance issues
When employees clock in and out on a time clock app, their hours are recorded and you can spot attendance problems from those numbers.
You get real-time data on tardiness, habitual absences, no call no show, etc.
Saves time and money
Employee time tracking is a time-consuming process, especially when you process time cards and tally worked hours manually.
Entering one number wrong and you may lose money without even knowing.
A time clock app automates the time tracking process with accuracy, saving you both time and money.
What you should consider when choosing a mobile time clock app?
Your business needs. Do you want an app that simply does its job—recording employee hours— or do you want additional features such as scheduling or payroll? Bigger systems can be more expensive and require a learning curve.
Your budget. How much do you want to pay for a time clock app? Does the app provide actual value to everyone on the team for the price you paid? Is it affordable?
Ease of use. The app should be easy to use for both managers and employees. Managers can easily navigate around the app to view employee hours and review timesheets. Employees can easily clock in and out to record their hours, and view their total work hours anytime.
10 best time clock apps you should try
Camelo is a powerful mobile time clock app with a clean interface and useful features for managing employee hours. It combines shift scheduling and time tracking, convenient for shift-based workplaces and hourly workers.
If you schedule a shift for an employee using Camelo, the employee can open the app to clock in and out. They can do so by recording their location, taking a selfie, or accessing the workplace network. This ensures only the right worker can clock in and out at the right time.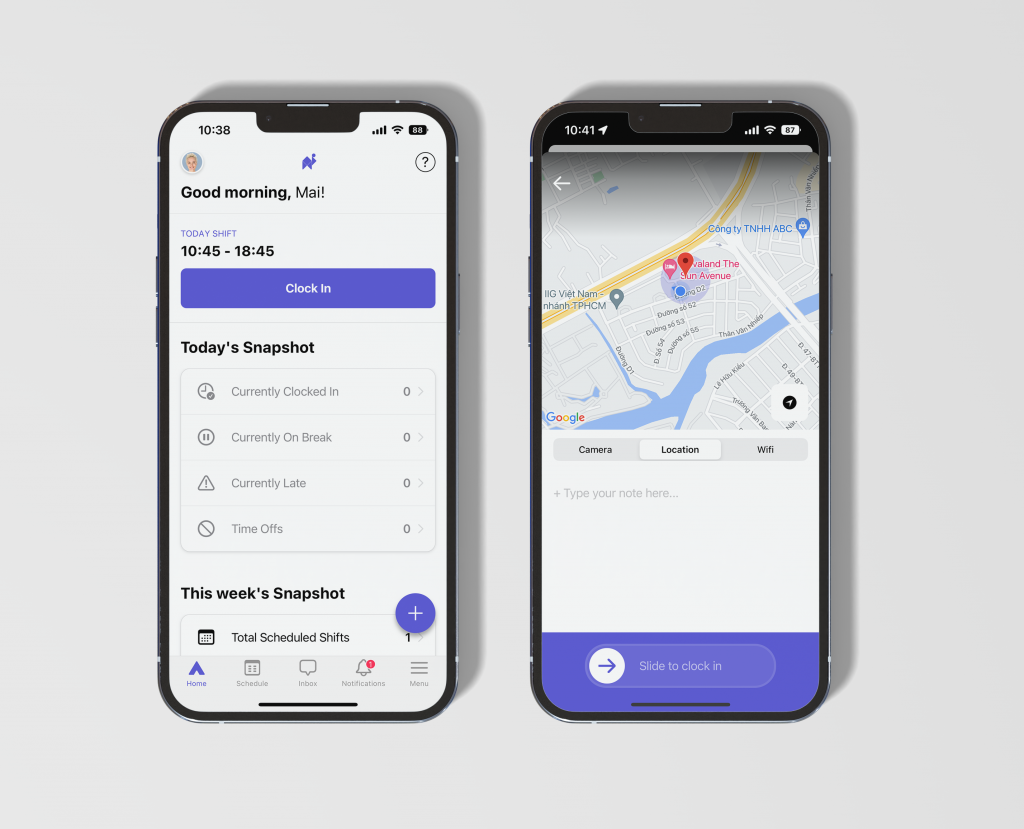 Camelo automatically turns those clock-in and clock-out times into timesheets. You can review and verify those timesheets, then export them to a CSV file for payroll.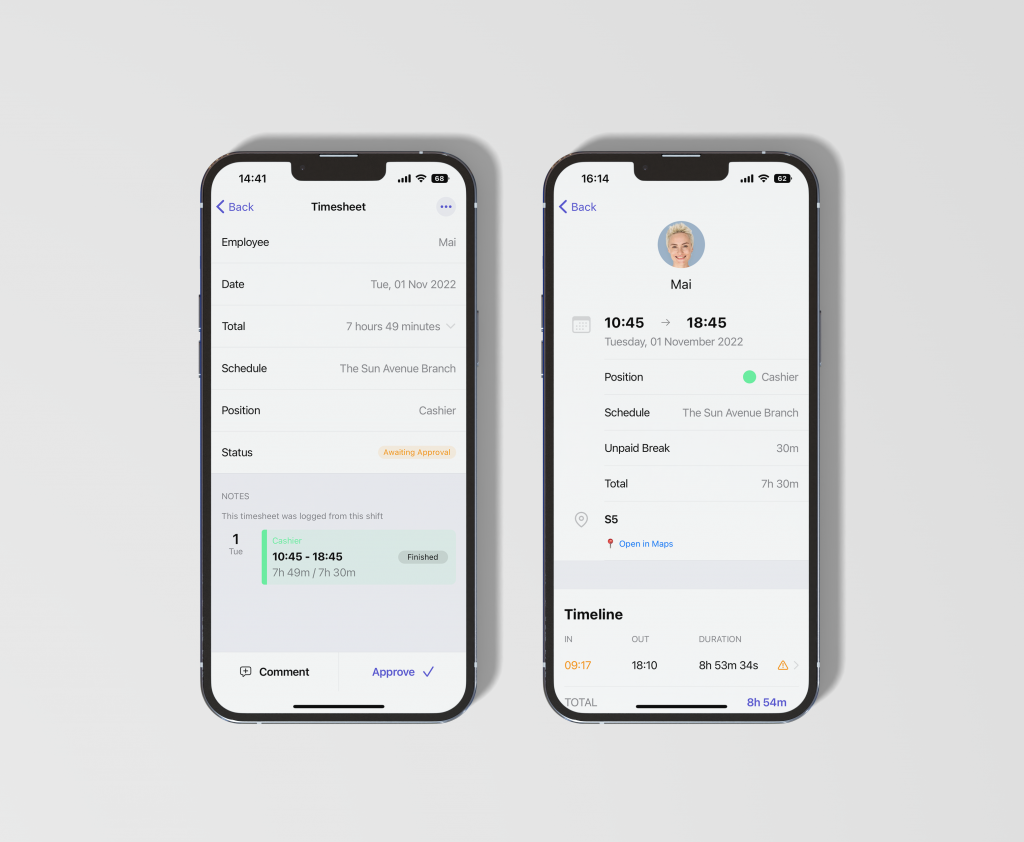 Employees can start a timer to record their hours or submit a manual timesheet. Managers or business owners can then review and approve those hours to make sure the data is correct.
Additional features of Camelo
Attendance tracking
Employee scheduling: create and share shift schedules with employees
Flexible scheduling: manage shift swaps and availability
Messaging: chat in group or 1:1
Direct in-app chat with the support team
Pricing
There's a Free plan, and a 30-day free trial for paid plans.
The Standard plan is $2.9/user/month.
The Pro plan is $3.5/user/month.
You can contact the team to customize a pricing plan that suits your business.
Connecteam is a diverse app that integrates multiple solutions: employee time clock, scheduling, communication, task management, HR management, etc.
Employees can record their work time on a job, position, project, customer, or work site using the mobile time clock app. The app will record the total work hours and the clock-in location, then collect the data into timesheets.
Besides the mobile app, Connecteam also provides a Kiosk app that allows employers to set up a clock-in terminal at the workplace.
There aren't many restrictions to clock in and out, so this app is more suitable for tracking unscheduled work time.
Additional features:
Digital forms & checklists
Employee scheduling
Task management
HR management: training, quizzes, rewards, etc.
Pricing:
There's a free plan for small businesses with under 10 employees, with access to the most popular features.
Paid plans come with a 14-day trial, starting from $35 per month.
QuickBooks Time is a great time clock app for remote workers and workers who change job sites frequently.
The time clock app allows you to track, submit, and approve employee time.
Employees can punch in and out via desktop, laptop, mobile app, text messaging, or dial-in. There are clock-in and clock-out reminders as well as overtime alerts to keep employees informed.
With QuickBooks Time, you can schedule employees by jobs, shifts, or projects. The app also generates reports so you can plan for job costs and payroll.
Additional features:
Project tracker
Shift scheduling
Alerts & approvals
PTO tracker
Pricing:
There's no free plan.
Paid plans start at $40 per month with a 30-day free trial.
Homebase is a time tracking app built for managing time, work schedules, payroll, and more.
You can turn almost any device into a time clock to track hours. The app automatically calculates worked hours, breaks, overtime; and generates the data into timesheets.
Besides time tracking, there are other useful features for managing your employees. You can create online schedules, adjust them, and share them with your team from anywhere. The messaging feature allows you to stay in sync with your team.
Additional features:
Scheduling
Payroll
Hiring & onboarding
Team communication
Employee happiness
HR & compliance
Integrations
Pricing:
Homebase's free version is for managing one location with unlimited employees.
If you want to manage multiple locations and access advanced features such as performance tracking or PTO tracking, paid plans start at $24.95 per month per location.
FindMyShift is a time clock solution designed to meet the time tracking and scheduling needs of businesses.
With FindMyShift, you can record the actual worked hours of employees, and get notified when employees clock in or out early, late, or not at all.
Your staff can punch in and out via the app, Web, or a central terminal that you set up. Those timestamps will be auto-generated into timesheets ready for manager approval.
Additional features:
Scheduling
Reporting
Time off management
Pricing:
There's a free forever plan for small teams of 5.
Paid plans start at $25 per team per month, with extended access to historical data, forward planning, managing time off, self scheduling, etc.
ezClocker is a mobile time clock app made for small businesses. Employees can clock in and out from anywhere using their mobile devices. They can do so via Web, mobile app, or a kiosk app on a workplace device. Employers can verify employees' clock-ins by viewing the GPS map view.
Besides tracking employee hours, you can schedule online using ezClocker. You don't have to manually email schedules to employees anymore. They can view their schedules easily using their phones or PC.
Additional features:
Employee scheduling
Payroll & reporting
Time off management
Pricing:
There's no free plan. You can try it out for free for 30 days.
3 paid plans, starting from $10 per month for 15 employees to $50 per month for 100 employees.
Hubstaff is a clean, lightweight app for managing field and remote teams.
You can track employee time spent on projects, tasks, clients, or locations. Employees can download the Hubstaff app to track their work hours or use the Google Chrome extension.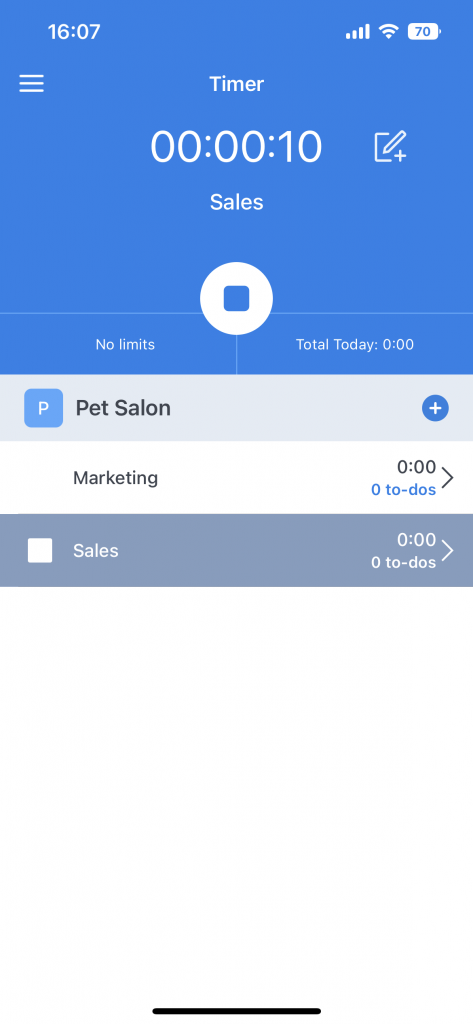 Timesheets are generated automatically so you can view employee hours by date, client, and project. You can review, approve or reject timesheets from one place.
Additional features:
Employee monitoring
Scheduling
Payroll & invoice
Project management
Pricing:
The Hubstaff's Time free plan is for one user only.
Paid plans with integration and reports start at $7 per user per month.
Open Time Clock is a cloud and web-based time clock that helps businesses manage timesheets.
You can track hours, attendance, PTO, shifts, and jobs. Employees can clock in and out using various methods: web camera, face recognition, barcode, QR code, RFID, or GPS. You get notifications if someone is late or leaves early.
You can track employee's hours and cost for each job they're working on. There's an auto-accrue PTO feature to help you decide when approving time off requests.
Additional features:
Job tracking
Shift scheduling
Absence management
Pricing:
The app has a free plan for unlimited managers and for all features except reports.
The paid plan starts at $25 per month per company.
ClockIt is a simple time clock software that allows employees to clock in and out from many devices and platforms: Web browsers, iOS and Android apps, kiosk app for tablets, terminals that support fingerprint, RFID, and facial recognition, and integrations within work apps.
With GPS tracking, you can see real-time data of employees clocking in and out and where they are working on one dashboard, so you can manage attendance better.
ClockIt also supports shift planning and leave tracking. You can allocate your workforce based on their availability. Employees can apply for leaves and you can track different types of leaves.
Additional features:
Shift planning & scheduling
PTO and leave management
Reports
Pricing:
ClockIt doesn't have a free plan. You can test it out for free for 14 days.
Paid plans start at $29 per month for 10 users.
OnTheClock is an easy-to-use time clock app. The software gives employees the option to clock in on desktop or mobile. You can also set up geofencing or authorized clock-in devices.
Besides time tracking, OnTheClock allows employers to create schedules for employees, manage PTO, and integrate with payroll services.
Additional features:
GPS tracking
PTO tracking
Payroll & project reporting
Pricing:
The app's free version is for 2 users, with access to all features.
If your team has more than 2 members, the pricing starts at $3.50 per employee per month.
Which is the best time clock app for your business?
Efficient time tracking benefits both employers and employees. The best time clock apps will make this process easier for everyone in your business. Give a few of the above apps a try and see what fits your needs best!
Spend less time on tracking work hours
Clock in and out, record work hours, and track attendance using 1 app.