Creating and managing employee rosters can be time-consuming. It takes hours every week to create rosters, find replacements, and deal with sudden changes.
Employee roster apps help you leave the old, tedious ways of rostering behind. They automate processes, calculate variables and limits, and record accurate data.
In this post, we'll discuss what you should look for in employee roster apps and the best 14 apps you can consider.
What to look for in employee roster apps
Drag-and-drop rostering. Staff rostering apps should let you drag and drop to plan and rearrange shifts. This makes rostering much faster.
Shift templates. You can save regular shifts and reuse them, so you don't have to create new shifts or rosters every time.
Self-rostering. Self-rostering options such as shift swapping or claiming open shifts allow employees to arrange their own shifts, so there are fewer no-call no-shows and absenteeism issues.
Reminders and notifications. Rostering apps should be able to notify people about upcoming schedules, shift requests, announcements, and more.
Time off management. You can track and approve time off to make sure who's absent and there's enough coverage.
Compliance with labor laws. You can plan breaks, manage overtime, and schedule qualified employees for specific positions.
Reports. Good apps offer detailed info and real-time data so you can make smart choices.
Reasonably priced. The app should be affordable and the features you need aren't locked behind pricey premium plans.
Syncs with other tools. Roster apps that include or sync with other tools such as time clock, messaging, payroll, or employee management can make admin processes easier for you.
Available on all devices. Workers should be able to use the app from their smartphones, tablets, and desktops, so they can view their rosters and receive reminders from anywhere.
Top 14 employee roster apps in 2023
Camelo is an employee roster app designed to help you create and manage rosters for your team. It caters to diverse sectors, including healthcare, retail, hospitality, and more.
The Camelo Scheduler allows you to drag and drop to plan rosters while variables such as time off, availability, and total scheduled hours are visible.
The app sends notifications when there are new rosters, updates, or requests.
Self-rostering options on the app allow employees to announce their available hours, swap shifts, or offer shifts to coworkers.
Camelo also offers a mobile time clock you can use for tracking attendance and worked hours.
The messaging feature on the app lets you chat 1-on-1, chat in group, or make announcements. You can also chat directly with the Camelo support team if you need assistance.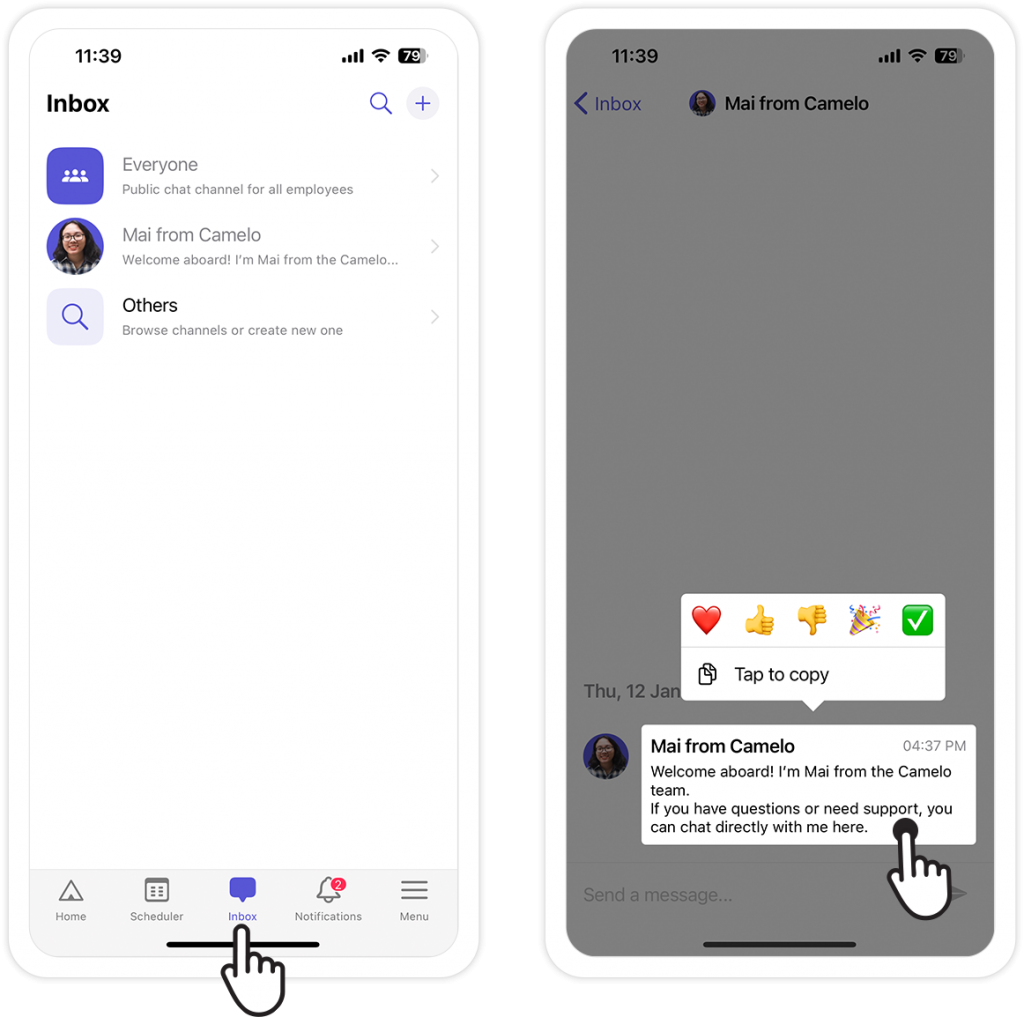 Camelo is available on the web, iOS, and Android, so you can use the app on any device and from anywhere.
The plans are flexible. You can decide to subscribe to only rostering, or include time and attendance tracking.
There's a Free plan with basic scheduling features and a 30-day trial for the Standard and Pro plan.
Standard: $1.9/user/month
Pro: $3.5/user/month
2. Homebase
Homebase is a rostering tool made for businesses with hourly workers.
You can create custom rosters, use auto-scheduling, or add templates to schedule your team faster.
Homebase offers a variety of features, including:
Rostering tools on desktop and mobile
Shift reminders
Availability, break, overtime, and time off management
Time clock & timesheets
Integrations with other services
Homebase offers a Free plan for 1 location and a 14-day trial for paid plans. Paid plans start from $20/location/month.
3. Shiftboard
Shiftboard is an employee roster app suitable for businesses with complex scheduling needs. It uses AI and auto-scheduling to help create efficient rosters.
The app caters to mission-critical industries, product-centric businesses, businesses with fluctuating staffing needs and high-volume staffing.
Other features of Shiftboard include:
Labor cost & fatigue management
Flex pools for last-minute changes
Auto-block violations
Job classifications
Team communication
You need to contact the vendor for details about the pricing.
4. mHelpDesk
mHelpDesk is an online rostering tool made for field service businesses.
It helps businesses manage tasks such as rostering, job tracking, customer management, invoicing, and reporting.
You can assign jobs and appointments to employees based on availability and skills.
Real-time updates and communication capabilities on the app help keep employees informed about their schedules and any changes.
The app's main features include:
Scheduling & dispatch
GPS tracking
Communication
Job management
Details about mHelpDesk's pricing aren't available on the website. You need to contact the vendor to get a quote.
5. Fourth (HotSchedules)
Fourth is a scheduling tool within workforce management software made for the hospitality sector. It features a forecasting tool that helps managers minimize overtime and comply with labor laws.
Through this app, managers can roster and oversee their employees' activities. Employees can access their rosters, swap shifts, and request time off.
Fourth's main features include:
Forecasting & rostering tool
Health monitoring
Law compliance monitoring
Integrations with other apps for hospitality
Details about mHelpDesk's pricing aren't available on the website. You need to contact the vendor to get a quote.
6. Deputy
Deputy is a suit of rostering solution that lets managers manage their employees' hours, attendance, and work information.
Through a centralized dashboard on the app, users can access their rosters, trade shifts, request time off, update their information, and exchange messages.
Deputy's features include:
Roster team based on availability, qualifications, costs
Find shift replacements
Cost control
Time clock
Team messaging
Deputy's paid plans start at $3.5/user/month, and there's a 31-day free trial.
7. Sling
Sling is a roster software suitable for businesses of different scales. It provides a centralized place for rosters, sales, costs, work hours, time off requests, availability, and more.
Sling's main features include:
Rostering & templates
Task management
Reports
Messaging
Sling offers a free plan that includes scheduling and messaging features. For more advanced features such as time tracking, you need to subscribe to paid plans. Paid plans start at $1.7/user/month, with a 30-day free trial.
8. 7shifts
7shifts is an employee roster app made specifically for restaurants. You can create rosters, manage timesheets, track labor costs, and communicate with your restaurant staff via the app.
7shift's main features include:
Drag-and-drop rostering
Time off request management
Shift swaps
Labor cost control
7shifts offers a free plan for businesses with 1 location and 15 employees. Paid plans start from $21.99/location/month, with a 14-day free trial.
9. Google Calendar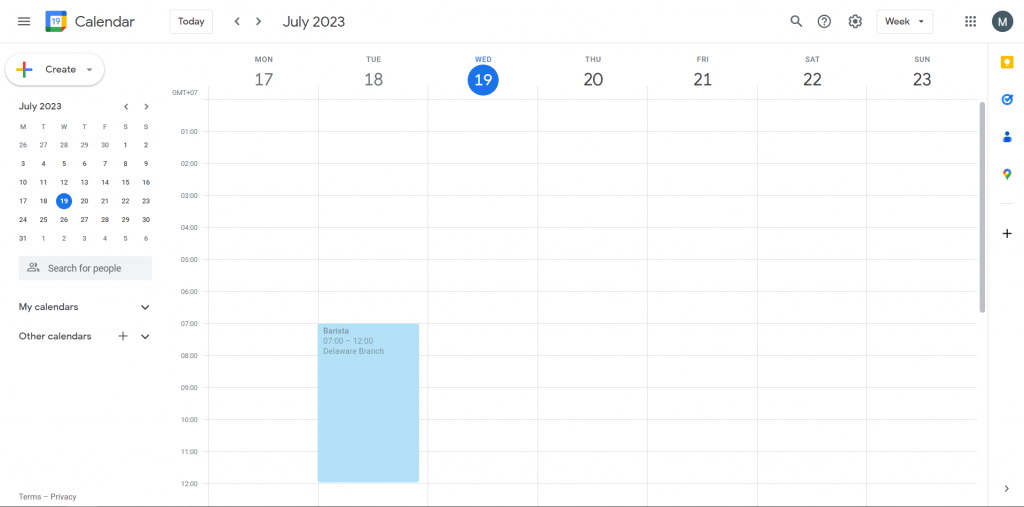 Google Calendar is a versatile tool that you can use for rostering small teams or individual freelancers. It enables you to arrange appointments, meetings, and shifts, along with event reminders.
With a user-friendly layout and multiple views based on time, you can easily grasp who works where and when. You and your team can also integrate personal schedules so it's easier for time management.
Google Calendar is free. If you want more advanced features, you can subscribe to Google Workspace plans, which start at $6/user/month.
10. Humanity
Humanity is a versatile rostering solution that enables you to view, create, edit, and distribute employee rosters.
The app's interface is clean and easy to navigate for both managers and employees.
Humanity's main features include:
Compliance with regulations
Integrations with HCM solutions such as Oracle or BambooHR
Details of pricing aren't available on their website, so you need to contact the vendor.
11. Tanda
Tanda is a rostering tool designed to assist businesses in managing their workforce and rosters. It's useful for shift-based work where managing employee rosters is crucial for effective operations.
It offers features that help with:
Employee scheduling
Time and attendance tracking
Labor cost optimization
Payroll integration
You need to contact the vendor for the pricing.
12. QuickBooks Time
QuickBooks Time is a great rostering option for remote and fully mobile teams. Rostering is easy as you can drag and drop shifts and copy details of previous rosters to the current ones.
The software integrates with many other apps such as Dropbox and Asana, making workflow more efficient and convenient for users.
The main features of QuickBooks Time include:
Rostering with drag and drop, based on shift or job
Time clock
Geotechnology
Mileage and expense tracking
QuickBooks offers paid plans starting from $10/month + $8/user/month, and there's a 30-day free trial.
13. Findmyshift
Findmyshift is a workforce rostering app that streamlines the scheduling process and improves communication among team members.
It's useful for various industries and businesses of different sizes that rely on shift work, including food services, retail, healthcare, and more.
Findmyshift offers tools for:
Employee rostering
Time and attendance tracking
Reports
Integrations
Findmyshift provides a free plan for businesses with 5 staff or less. The app charges per team. Paid plans start from $25 per month for 20 staff.
14. Connecteam
Connecteam is a comprehensive employee management platform for businesses with remote and on-site employees.
The software offers various features for rostering and managing your team:
Employee scheduling
Time clock
Task management
Forms & checklists
Paid plans start from $29/month.
---
What are employee roster apps?
Employee roster apps are apps that enable you to create, manage, and distribute employee rosters. Employers can use them to plan shifts and notify employees. Employees can use them to view their rosters, swap shifts, or track work hours.
These apps keep the shift planning process easier and faster, saving businesses time and money on mundane tasks. Most of them are available on both desktop and mobile, so everyone can use no matter what devices they have.
Roster apps can also integrate time tracking, attendance tracking, team messaging, and other tools that are useful for the rostering process.
How do roster apps work?
Roster software displays all information necessary for rostering employees, including time, date, employee availability, scheduled hours, time off, and more.
Managers, business owners, and schedulers can quickly view the information so they can create and update rosters easily.
Employees can use rostering apps to view their rosters, get notified about roster changes, shift details, request shift swaps, request time off, and more.
Many roster apps also allow users to track their worked hours and attendance, or chat with coworkers, or integrate with other systems.
Benefits of employee rostering apps
Keep the rostering process faster. Managers can create rosters, find shift replacements, and ensure coverage quickly.
Reduce costs. Automated apps help create more efficient rosters—minimizing scheduling issues such as overstaffing and overtime. They also reduce costs on consumable items such as paper schedules and forms.
Keep communication clear. Announcement channels, feature updates, notifications about employee rosters, and chats with coworkers keep your team updated.
Minimize human mistakes. Employee roster apps calculate and forecast data more accurately compared to manual methods.
Comply with labor laws. Digital apps calculate breaks and overtime, track employee hours, and ensure businesses comply with labor laws.
Get real-time data. Real-time data about attendance, rosters, and work hours are updated on the apps, so both managers and employees can know about changes and updates.
Integrate with other tools. Many apps can integrate with time tracking, payroll, POS, or HCM systems, making processes even easier for businesses.
How much do rostering apps cost?
Many roster apps charge a monthly fee.
Some apps offer a free version, but this can be limited in terms of features or the number of employees you can add.
Rostering apps can charge per user or per location. Larger businesses may find apps that charge per location less costly. Smaller teams may benefit from apps that charge per user.
Camelo offers a free version that includes basic tools for rostering, which can work well for smaller teams with limited budgets. Paid plans start at $1.9/user/month, making it an affordable and competitively priced option available.
Ready to try employee roster apps?
A suitable employee roster app should make the rostering processes simpler, faster, and more accurate. It should free up your time and energy for more important matters.
By considering different factors and available options, you can choose the app that best suits the unique needs of your business.
Ready to give a nice roster app a try?