Have you ever felt stuck, not knowing what to post and how to engage customers on social media?
Social media is a channel full of opportunities for restaurants. Via online interactions, you can get to know customers on a deeper level while gaining reputation and customer loyalty.
Here are 100 restaurant social media post ideas to keep your social channels active and engaging.
Posting about what you offer is the first thing you should do.
Mouth-watering food and beverage images always catch attention. Make sure to hire a professional to photograph high-quality photos for your menu items.
Current menu
Menu changes
Signature dishes
Specialty drinks
Favorite menu items of guests
New menu items
Limited-time menu items
Seasonal menu items
Menu items using local ingredients
Menu items using special ingredients
Cocktails & mixed drinks
Coffee drinks
Tea drinks
Food and drink pairings
Tip: When posting your restaurant menu, don't forget to drop a link to a PDF or a menu page on your restaurant website.
Polls & questions
Using polls is a good way to engage your audience while learning about customer preferences.
Ask for suggestions of new menu items
Ask about favorite menu items
What content your audience wants to see more often
This or that? (e.g. Lasagna or Quesadilla)
Do you want to…?
Fill in the blank: If you had one day left to live, what would you order?
Menu options for special diets
Posting about these menu items will attract guests who care about their diets, have special diets, or struggle with allergies.
Nutritional information of menu items
Vegetarian
Vegan
Low-calorie
Low-fat
Low-carb
Gluten-free
Wheat-free
Dairy-free
Allergy-friendly
Specials & promotions
Notify guests of specials, deals, promotions, and discounts to drive them to your restaurant.
Specials available at the moment
Specials available only on social media
Discounts for those who … (retweet, check-in at your restaurant, tag your account, tag 3 friends, etc.)
Birthday discounts: encourage followers to tag friends who have birthdays in the month to get discounts
Promote loyalty and referral programs
Promotions for slow business hours
Promotions and deals for upcoming occasions/holidays
Giveaways & contests
People love giveaways and prizes. Organize these events to stir up your social channels.
Share this post and receive … (discounts, vouchers, free drinks, etc.)
Giveaways
Tell stories related to your restaurant and receive …
Take the best photos of your restaurant and receive …
Customers & guests
79% of consumers trust online reviews as much as personal recommendations, and 94% say that positive reviews influence their choice to use a business.
Customers these days look at online reviews and ratings before deciding on where to dine. Help them make the decision by posting:
42. Customer reviews
43. Photos and testimonials of regular customers
44. Dining areas filled with customers
45. Photos and videos of happy customers enjoying your food
46. Interact with user-generated content: thank, comment, share
47. Customers' celebrations at your restaurant — birthdays, anniversaries, etc.
48. Influencers/food bloggers/food photographers at your restaurant
Giving back & sustainable practices
Giving back and using sustainable practices change the world and make customers feel like they're a part of something good when buying from you.
Sustainable and eco-friendly business practices
Employees attending charitable events and helping the community
Support local causes (encourage donation from followers, etc.)
How you reduce waste and recycle resources
Tip: Be genuine because customers can spot fake promises and dishonest efforts.
Events
Promote events and use relevant events to promote your restaurant.
Featured events at your restaurant
Upcoming events
Special holidays: national holidays & lesser-known holidays
Relevant current events
Relevant local events
Your pop up at a local event
Customers' celebrations: what you offer on their birthdays, anniversaries, etc.
Restaurant features
Promote the atmosphere, decorations, themes, areas, and unique physical features of your restaurant.
Outdoor seating
Patio dining
Decorations of the dining area
Unique features of your restaurant
Paintings and antiques
Kid-friendly features
Pet-friendly features
Family-friendly features
Romantic features for couples
What makes you stand out? (A giant duck statue in front of your restaurant, for example)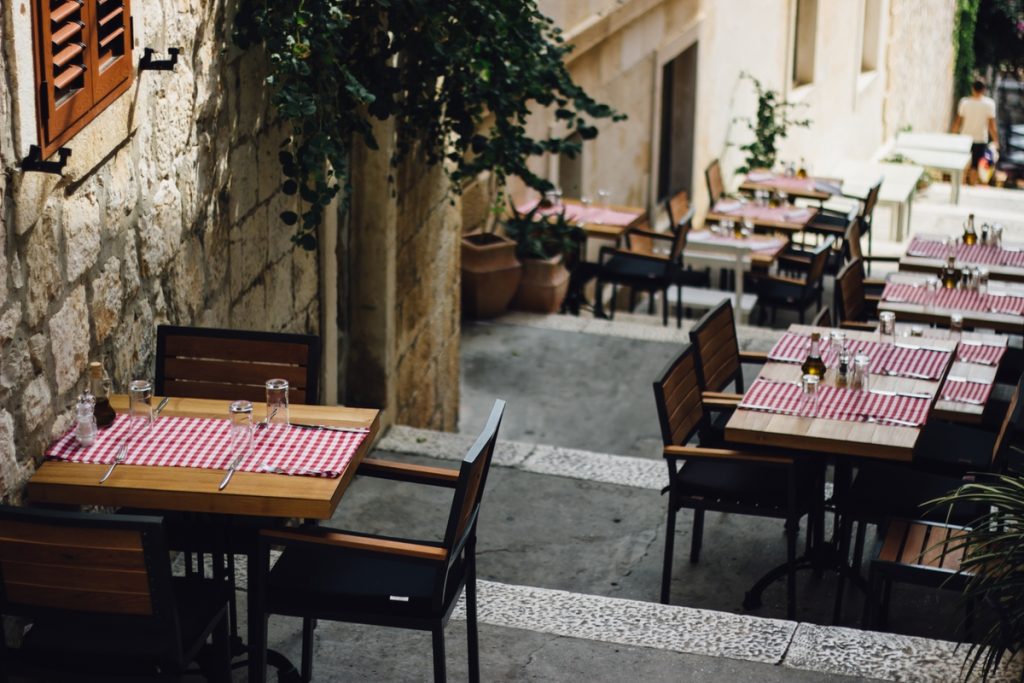 Promote your restaurant's presence in other places
Your social channels should drive customers to your blog, website, app, and other platforms.
Link back to your website (menu or relevant pages)
Promote your blog
Promote your app
Encourage subscribers to sign up for your email list. They can receive discounts, tips, recipes, etc.
Promote specific platform reviews from Yelp, Trip Advisor, etc.
Link to other social platforms
Use branded hashtags
Staff & team
Let guests meet your teams and staff members, or…become one!
Introduce your team members
Team outings
Staff share experiences as an employee
Employee of the month
Staff's personal stories: retirement, new school, recently promoted to head chef, etc.
Company swag & merch
Opportunities for employment at your restaurant
Operations
Share what happens in the Back of House, on the road, and places outside of your restaurant.
Videos of restaurant operations
Behind the scenes – photos and videos of staff at work
Food preparation
Videos of staff enjoying work and having fun
Introduce the origins of ingredients
The process of harvesting or delivering supplies
Interviews with suppliers
How to order takeouts
Deliveries by third party providers or your service
Delivery vehicles and in-progress deliveries
About your restaurant
Let people know who you are and what you do.
Restaurant history (the founder, the purpose of opening, what cuisine you offer, how much has changed over time, etc.)
Did you know … ? (Share something interesting about your restaurant.)
Awards
Milestones: when you reach 1K followers, recognized by an organization, or praised by an influencer, etc.
FAQs: answer common questions regarding the opening hours, dish sizes, or payment methods.
Weekly news
Merchandise for sale: cookies, gift cards, snacks, etc.
Promote your reservation system
Promote your catering service
Entertaining your audience
Get closer to your audience in a funny and pleasant way.
Non-sensitive and non-offensive jokes
Memes
Quotes & inspiration
Show your expertise in the F&B industry to gain trust and provide value.
Food tourism
Data and statistics related to the F&B industry
Recommendations from foodies
Share recipes
Cooking tips & advice
Interactions with audience and local community
Encourage people to interact with your restaurant and establish positive relationships.
Your favorite thing about us in one word
Explain [a concept/word/trend/etc.] by dropping a GIF in the comments
Cross-promote with local businesses and events
Share an interesting photo with the audience and let them write the caption
Videos and stories
It's crazy to see how people react to stories and short videos. Try to create some to see how they go.
Use the Boomerang feature on stories: chef stirring a pot or sprinkling salt, etc.
Share relevant accounts' stories and posts
The process of making a dish/drink
A freshly-cooked dish that day, in slow motion
With all the restaurant social media post ideas above, you'll never run out of things to talk about on social media.
Try to:
Post consistently.
Interact with customers.
Maintain a cheerful and helpful attitude.
Find a template to store ideas and plan your content strategy beforehand.
Download the social media idea checklist here.